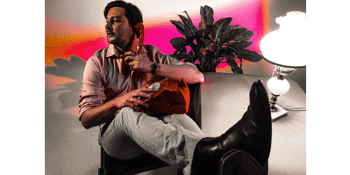 Royal & The Southern Echo 'Technicolour' Single Launch
With Vladik, Lilian Vase
Bloodhound Bar (Fortitude Valley, QLD)
Thursday, 1 November 2018 8:00 pm
Royal And The Southern Echo returns with a fresh take of his brand of thoughtful nostalgia tinged pop with 'Technicolour' the final single of the incoming 'Correspondence' EP. Putting down the acoustic guitar and the 'sad boy singer-songwriter' archetype, 'Technicolour' is a world of soft lighting, tropical flavours and the embracing of change.
Appearing for one last 2018 headline show, Royal And The Southern Echo is joined by Vladik and Lilian Vase.
Vladik is a Russian born, Sri Lankan raised, Australian based artist writing sleepy dream-pop in her home town of Brisbane.
Vladik's breakout first single "Sleep" combines downtempo soul with dream pop, weaving together a hypnotic and sun-kissed introduction titled 'Sleep'.
Lilian Vase are Brisbane based relaxed new comers with a knack for storytelling, weekend ready melodies and a penchant for building dreamy chorused out soundscapes.
Come and celebrate some new beginnings with that old friend nostalgia with Royal And The Southern Echo, Vladik and Lilian Vase - Nov 1st tickets limited.
https://www.thesouthernecho.com/
https://www.triplejunearthed.com/artist/vladik